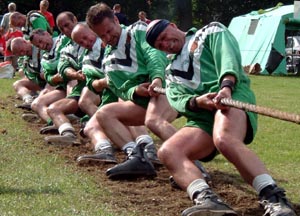 Its governing body in England is the Tug Of War Association (ToWA). The other UK countries have their own associations. The ToWA was founded in 1958. Prior to that the sport was organised within the Amateur Athletic Association (AAA). The ToWA and the other UK associations are members of the The Tug of War International Federation (TWIF).The Tug of War Association is the delegated authority for Tug of War in England by Sport England (formerly The Sports Council). Tug of war was part of the Olympic Games between 1900 and 1920.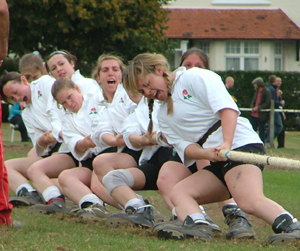 Competitions
The ToWA organises men's, women's and youth competitions. Mixed teams and men's teams pulling against women's teams are not allowed in championship events, but mixed gender pulling is allowed (and quite common) in open competitions. Competitions under ToWA laws are held every weekend. Outdoor Tug of War (on grass) takes place from March to September, and Indoor Tug of War (on mats) takes place from October to February. All member clubs can compete at these meetings. Clubs who are not members of the ToWA may also compete for a trial period but should register with the Association if they wish to continue pulling in its competitions.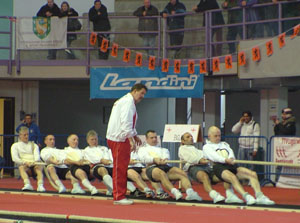 A Tug of War team consists of eight pullers plus a coach and a trainer. The coach is the only person in the arena (apart from the judge) who may address remarks to the team during a pull. All pulls are conducted under the control of a ToWA judge. Pulls are best of three, the choice of first end being decided by the toss of a coin. The object is to pull the opposing team a distance of four metres. Teams can be disqualified for persistently infringing the rules. The rules are available on the rules page, but if you stay in a proper pulling position, i.e. facing forwards with both hands on the rope, do not sit down and do not lock the rope across your body you should be OK.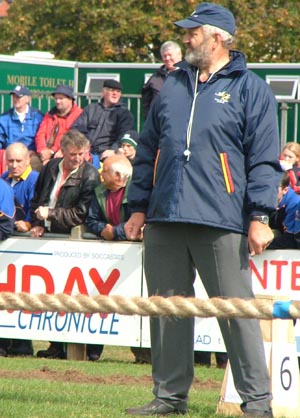 Tug of War competitions are organised in weight classes where each team of eight pullers must not exceed the stated weight. Weight classes start at 560 kilos for men and 520 kilos for women. Teams are weighed on 8-person scales. Most Tug of War meetings have 3 or 4 weight classes. Each weight class is run as a points competition (where each team pulls every other team, getting 3 points for a 2 - nil win, 2 points for a 2 - 1 win and 1 point for losing 1- 2), or as a knockout competition (where two teams end up in a final).

There are rules regarding footwear (very important) and clothing.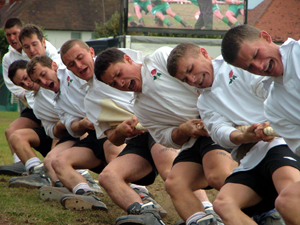 Starting a new team?
If you have a novice team that competes at fun events, and would like to take it a step further, why not start competing at proper ToWA competitions? You do not have to join the Association straight away, and need not be afraid of being outclassed. Most (usually all) weights at ToWA competitions are now run as a points competition. This means that a novice team will get plenty of pulling experience competing against teams of all standards, and will soon notice an improvement in its ability. Most ToWA competitions are held on Sundays (although some also take place on Saturdays), and most Sunday competitions start at 11am thus ensuring a reasonable finishing time. The ToWA runs courses for judges and coaches anually, and at ToWA competitions you will meet lots of experienced people who will happy to share their knowledge with you. If you would like more information please contact one of the people listed on the Contacts page. They can put you in touch with a local official or coach who will be only too pleased to give you advice and assistance.