2019 National League Finals Results - A Really Competitive Day of Tug of War!
The 2019 National League finals were hosted by Upton TOWC on a bright but blustery day. All the competitions were run on a straight league basis with the points accrued being added to the current league positions.

The day began with the men's 600kg with six teams entered alongside the ladies and youth 560kg also with 6 teams.
Lincoln started top of the men's league with 62 points, six points ahead of Oxney with 56 points and Norton in third with 39 points. Haldon and Felton Eccles started in 4th and 5th place respectively. As the competition progressed, Lincoln and Oxney went one end apiece and won all their other pulls gaining 13 points each. Norton pulled hard until the end and finished with 9 points. This meant the top three places were unchanged and Lincoln won gold, Oxney silver and Norton bronze. Felton Eccles managed to gain 6 points and climb above Haldon to finish 4th. Haldon were 5th and a competitive Upper Eden finished 6th.
The 560kg Ladies and youth competition had Bedford Ladies, Haldon Ladies, Whitney Boys, Oxney Ladies, Upton Ladies and Whitney Girls all entered. Bedford were topping the league with an unassailable 79 points. There was some good competitive pulling throughout as three teams, Bedford, Haldon and Whitney boys all finished on 12 points. When the league points were all totalled up, Bedford ladies won gold with 91 points, Haldon Ladies silver with 53 points and Oxney Ladies bronze with 32 points (much to their delight after their first season pulling). The youth leagues were won by Whitney boys and girls both receiving gold medals.
The next weights were the men's 640kg and ladies & youth 520kg.
Oxney men started top of the league at the beginning of the day with 73 points, ahead of Felton in second with 45 points and Lincoln third with 42 points. Haldon were in 4th place and Upper Eden down in 9th. Oxney and Lincoln went one end apiece and won their other pulls finishing with 10 points each. Felton pulled well all competition and earned 6 points and Upper Eden managed to beat Haldon to get 3 points. Oxney ended up clear gold medal league winners with 83 points however Lincoln managed to win silver with 52 points pipping Felton into bronze who got 51 points.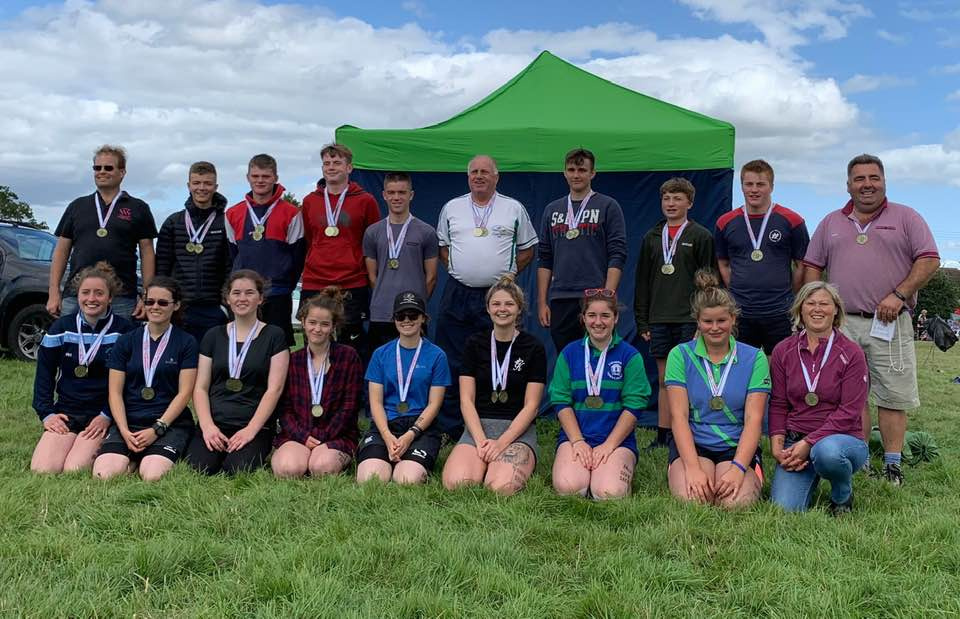 Bedford Ladies started the 520kg way out in front with 79 league points followed by Oxney Ladies with 38 and Haldon Ladies with 27 points. Whitney boys & girls also competed as did the hosts Upton Ladies. When all the pulling was done, Bedford gained another 13 points to win gold with a total of 92 points, Upton Ladies pulled very well to gain 10 points followed by Whitney boys with 8, Haldon Ladies 6 and Oxney Ladies 5. Whitney girls had a tough day and came away with a lot of experience. Oxney finished with the silver medal and 43 points with Haldon Ladies winning the bronze with 33 points. Whitney boys & girls won their youth leagues and received gold medals for their efforts. They will be competing at GENSB in Folkestone at the weekend and we wish them the very best of luck and an enjoyable experience!
Photo: Whitney Junior Men and Junior Ladies Squads
The last weight of the day was the men's 680kg. This was set to be highly competitive with Felton and Norton being joint leaders on 69 points each. Lincoln were 5 points behind on 64 and Haldon with 7 points. The first pull was between Felton and Norton so it was crucial for one team to win and break the deadlock. As it turned out, the pull went 1 end each. Both teams went on to lose against Lincoln with all three beating Haldon. This meant that Lincoln, Felton and Norton were tied in the National League with 73 points each. A three way pull off was needed to split the teams. First out, Lincoln pulled Norton with Norton winning 2-0. Next Norton v Felton with Felton winning 2-0. The last pull was Lincoln v Felton which Lincoln won 2-0. All the teams were tied again. This time however, Lincoln were declared gold medal winners having fewest cautions. Norton and Felton were separated by weight, with Norton being the lighter team they won silver and Felton a worthy bronze.
A great end to a great outdoor season with the last bit of competitive training for the teams before they travel out to the European Championships in Castlebar, Ireland. Good luck to all our teams.
The officials on the day were, Vic Ludkin (referee), Peter Craft (chief judge) assisted by Tony Henshaw, Mick Grimston, Pete Dyer, John Gracie, Roger Beardsmore & Gavin Corden. The important timekeeper/recorders were Wendy Dyer and Caroline Abri.