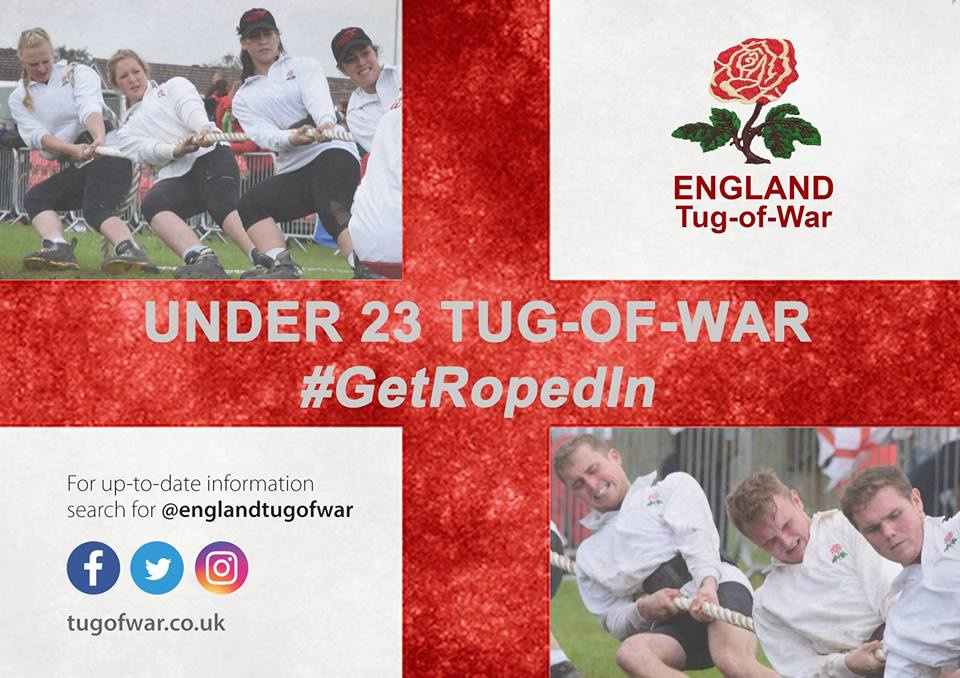 Have you ever had a dream that one day you might be able to represent your county in a sport that you love?
The chances are that you have, standing proud wearing the England rose ready to compete and give your all.

If you have the drive and ambition to realise a dream they can come true!

The English Tug of War Association, has a strong tradition at international tug of war winning at World, European and British Championship level.

We are currently looking to build on our England U23 programme (men and ladies). Under 23 championships are also now held for mixed teams.

For U23 pullers you must be between 16 & 22 before the end of the calendar year.
The ruling as recently amended by TWIF is as follows:
A male puller is eligible to participate in the Under 23 category from the beginning of the year in which the puller reaches the age of 16 years until the end of the year in which the puller reaches the age of 22 years.
The above age limits apply to both U23 ladies and U23 men

It is an exciting opportunity for you to aim for and to fulfil your dream. Our under 23 teams come from a wide variety of back grounds – some come from both established tug of war clubs and newer clubs in our Association and we have a strong connection with young farmers clubs, military teams and other organisations. We are open to everyone who would like to give tug of war a try.

You can download our brochure below:

How do I get Started?
Complete the application form below applying for either the under 23 men's team or the under 23 ladies team and return them to the appropriate team manager whose details are provided at the bottom of this page. They will then get back in touch with you with further information.
Dave Knott

England U23 MENS Coach/Manager
Tel: 01538 385752
Mobile: 07779852610
Email: bigknotty720@gmail.com

David Kitchener
England U23 LADIES Coach/Manager
Tel: 01234 378825
Email: Kitchenerdavid56@gmail.com